Every company have the left products in the warehouse as the business consequences that inevitably it must be taken.
It's happened because several case, such as that happened to us that our buyer is passed away because of car accident.
Based on that terrible case that happened to my buyer, the products he ordered to us was cannot be shipped.
His family is cannot continue his business, because they have no experience to handle that business and his family asked for my understanding and I understood.
I did not want to burden his family because it's the accident that every people do not want it will be happen to them.
Because the product ordered by my buyer who passed away is still in my warehouse and I already got the permission from his family to sell that ordered products to other people, in this valuable time we would like to offer to sell that left products with a lot of discount.
The products is still in good condition and packed in the carton box for the cafe or bar menu boards but for the furniture is wrapped with the single face carton sheet. The products we would like to sell in sale with a lot of discount is :
1. Cafe menu boards (Standing and wall boards) about 1380 units
2. Teak root chairs about 500 units
3. Teak root console tables about 400 units
4. Teak root round dining table 10 units
5. Teak root bowls about 700 units
6. Leave shaped teak floor decoration 2 units
7. Natural shaped erosion teak floor decoration 1 unit
8. Teak wood adirondack 3 units
9. Sonokeling ( Dalbergia latifolia roxb. ) dining table with powder coated iron legs 1 unit
10. Sonokeling ( Dalbergia latifolia roxb. ) root coffee table 10 units
11. Suar dining table 3 units
12. Suar log dining chairs 8 units
13. Suar log stool 15 units
14. Resin teak wood dining tables about 11 units
15. Resin teak wood coffee table 2 units
16. Resin teak wood tea table 12 units
17. Resin sioux floor statue 1 unit
18. Resin lady small statue 1 unit
19. Resin giant snail shell 4 units
20. Rattan chairs 30 units
21. Rattan teak wood chairs about 30 units
22. Petrified wood coffee table with stainless steel legs about 10 units
23. Petrified wood tea table with stainless steel legs about 10 units
24. River stone sink 50 units
25. River stone turtle statue 70 units
26. River stone abstract man statue 12 units
27. Marble small pot 40 units

The sale is opened for every people who want to resale or individual use.
For the detail info you may contacting to :

Surya Java Furnindo, CV.
www.suryajava.com
[email protected]
+62 (0)813 27942 088 (WA and Phone number)


Resin wood dining table
This beautiful goods is not as a dining table only. This goods is made of the green colored clear resin combined with the teak wood and had the artificial fishes inside the clear resin to describe about the river. The legs is made of the cast aluminum to show how modern the table. This is very nice to put in your dining room not as the dining table only but it's will decorate your beautiful place more nice and exotic.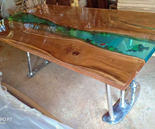 Resin wood coffee table
This beautiful coffee table is made of the semi clear resin combined with the teak wood and it's very nice to add the decoration in your place, such as in the cafe and individual modern home.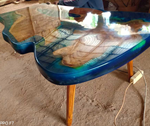 Teak root console table
Teak root console table is made of the organic teak root and can find in Indonesia only.
Before it's produced as the beautiful console table, the root – as the raw material is buried in the deep of soil for about 40 years as the minimum age that the root is buried inside.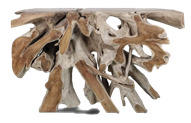 The cafe menu board
The product below is made of the recycled wood combined with the ceramic iron plate, so we can use the original chalk or chalk pen to write or drawing on the surface.
We have 7 styles of that products and every style is have beautiful and interested shape to place to your cafe.